Iraq Asks The US To Encourage Countries To Withdraw Their Nationals From Al-Hol Camp
Printer-friendly version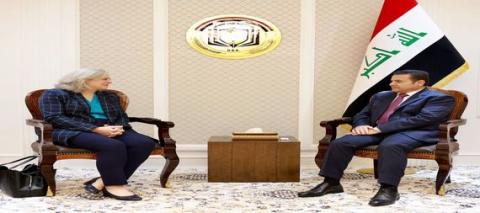 Baghdad / NINA /- The National Security Adviser, Qassem Al-Araji, met in his office today, Thursday, with the US Ambassador to Baghdad, Alina Romanowski.
The National Security Chancellery stated in a statement, "Al-Araji discussed with the US ambassador developments in the political and security situation at the regional and international levels, as well as the file of Al-Hol and Al-Jadaa camps, and the continuation of cooperation between Baghdad and Washington in the field of combating terrorism."
The US ambassador indicated, "Al-Hol camp is an Iraqi file, expressing her country's readiness to provide the necessary support to Iraq in this file, in order to achieve security and stability in Iraq and the region."
For his part, Al-Araji called on the United States to encourage countries to withdraw their nationals from Al-Hol camp, indicating that some countries have withdrawn their nationals from the camp, expressing Iraq's aspiration to urge the rest of the countries to withdraw their nationals.
Romanowski affirmed that her country is serious about urging the international community to help Iraq end Al-Hol camp file, and to withdraw the remaining countries from the camp./End