Shortlink :
https://www.oananews.org//node/666146
The shortlink copeid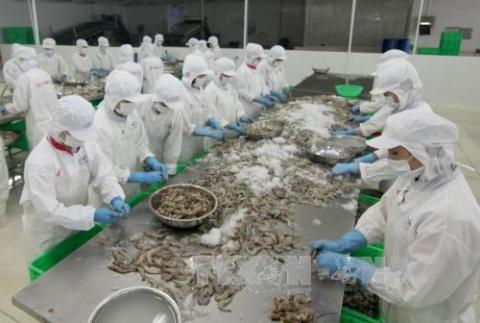 Plunge in Vietnam's exports has bottomed out: VinaCapital
HCM City, August 28 (VNA) – This year, Vietnam has suffered its longest streak of falling exports in more than a decade. However, there are concrete signs that Vietnam's exports are set to recover in the fourth quarter driven by a bottoming out of the US inventory cycle and by an acceleration in multinational firms' movement of manufacturing to Vietnam, according to VinaCapital's Chief Economist Michael Kokalari. Kokalari said in a recently-released report that the US is Vietnam's biggest export market, accounting for about one-quarter of Vietnam's total exports. "But US retailers and other consumer products companies bought too many Made in Vietnam/Made in Asia products last year in anticipation of a post-COVID re-opening boom that never came. Instead of buying more manufactured products when COVID lockdowns lifted, US consumers splashed out on services like travel and going out to eat. To make matters worse, companies had "over ordered" products from factories in Asia in response to supply-chain issues and shortages, so the net result was that the inventories of companies like Walmart, Target, and Nike ballooned by over 20% yoy in late-2022," he said. US retailers slashed orders at factories in Vietnam this year in response to their bloated inventories, which explains why Vietnam's exports to the US fell by more than 20% year-on-year in the first seven months of this year after having surged by more than 20% in the same period last year. However, US firms have been aggressively de-stocking throughout 2023. Kokalari noted that all of this links closely with Vietnam's export figures. The aggressive inventory reduction efforts of firms like Walmart and others drove the plunge in Vietnam's exports in the first quarter, but that destocking is now approaching its conclusion, and Vietnam's exports to the US increased by nearly 7% month-on-month in July. Consequently, the year-on-year decline in Vietnam's exports to the US improved from a 26% year-on-year drop in June to a 14% year-on-year decline in July, which helped reduce the fall in Vietnam's total exports from 12% year-on-year in the first six months to 2% year-on-year in July. Finally, in addition to a cyclical recovery in exports to the US, Vietnam is also benefitting from companies moving their production to Vietnam. All Asian exporters should be benefitting to some degree from a de-stocking-driven export recovery, but Vietnam is the only country in Asia that is also significantly benefitting from the establishment of new factories in the country. "We are confident that the improvement in Vietnam's exports will accelerate as 2023 progresses based on several reliable leading indicators, including: Vietnam's import growth finally caught up to export growth on a sequential basis in July, after having lagged significantly for much of 2023, the ongoing decline in export orders for Vietnam's factories finally eased in July, and firms' inventories of raw materials increased in July for the first time since late-2022," said Kokalari. According to the report, over one-half of Vietnam's exports to the US are of high-tech products like consumer electronics, and smartphones, and of garments and footwear, with a range of other products such as furniture and agriculture accounting for the rest. Earlier this year, global sales of personal computers were falling by more than 30% year-on-year (Vietnam's exports of high-tech products fell by more than 10% year-on-year in the first half), but the decline in PC and consumer electronics sales has now ended according to senior Walmart executives, who noted a "modest improvement" in consumer electronics sales recently. Consequently, Vietnam's exports of such items surged from a 3% year-on-year decline in June to a 28% year-on-year increase in July, making it the single biggest contributor to the rebound in Vietnam exports last month, and helping propel Vietnam's exports to above 30 billion USD for the first time this year. Next, Vietnam is the world's second biggest smartphone exporter, so new product launches can have a major impact on exports and manufacturing activity (Samsung alone accounts for a quarter of the country's total exports). Finally, garments and footwear account for nearly 20% of Vietnam's exports and exports of those products to the US are unlikely to rebound until next year because the progress of retailers in the US destocking such products has been much slower than the progress in running down inventories of consumer electronics products. However, garment exports to the Republic of Korea (RoK) and Japan soared by about 30% month-o-month in July as demand for clothing rebounded in both countries, according to local consumer sentiment surveys. The report pointed to concrete signs that Vietnam's exports are set to recover in the fourth quarter, driven primarily by a bottoming out of the US inventory cycle, but also by an acceleration in the relocation of manufacturing to Vietnam. This rebound is likely to help lift Vietnam's GDP growth from below 5% in 2023 to 6.5% in 2024, which in-turn should help propel an increase in the earnings growth of the VN-Index (VNI) from 6% in 2023 to over 20% in 2024, which should support the VN-Index in the months ahead, said Kokalari./.