Shortlink :
https://www.oananews.org//node/535021
The shortlink copeid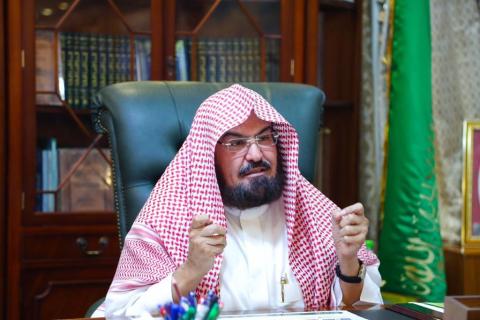 Attack On Abha Airport Cannot Be Tolerated By Sharia: Assudais
Jakarta, June 13 (ANTARA) - General President of General Council for the Two Holy Mosques, Sheikh Abdurrahman Assudais denounced Houthi militia's attack on Abha International Airport, Asir, southwest Saudi Arabia, Wednesday morning local time that injured 26 people. The terror attack committed by the Houthi Militia on Abha International Airport, through which several thousand people, including Saudi civilians and from other nations worldwide pass daily, drew sharp criticism from Sheikh Assudais, noted a statement received by Antara here, Thursday. Sheikh Assudais remarked that the terror attack that the Houthi rebel fighters claimed full responsibility for through its mass media, constituted a clear recognition and role behind targeting civilians and civilian objects protected by International Law. He stated that this belligerent act is indicative of the extent of moral damage and hostile intentions of the terrorists and also exposes their plans to target civilians. This amounts to gross violation and harassment of all international values, regulations, and consensus. "Such aggressive act of terror can never be committed by religious people or those who defend a principle. This action is not tolerated by Sharia or any custom or norm. It is nothing but damage on earth, sinful terrorism, and evil crime," Sheikh Sheikh Assudais emphasized. "These terrorist crimes strengthen our troops' resolve to protect the country and people as well as to maintain the worship center of the Muslims from anyone who intends to destroy the Kingdom of Saudi Arabia," he reiterated. Earlier, Colonel Turki Almaliki, the official spokesman of the Coalition To Restore Legitimacy In Yemen, noted that on 2:21 Wednesday morning local time, the Houthi Militia launched a projectile that struck the arrival hall at Abha International Airport that accommodates several thousand passengers from various nations every day. The attack resulted in injuries to 26 civilian passengers from several nations, including three women from Yemen, India, and Saudi and two Saudi children, Colonel Almaliki gave confirmation in a statement quoted from the Saudi News Agency (SPA). Eight people were moved to the hospital to treat moderate injuries, while 18 others, with minor injuries, were treated at the location. Some facilities at the airport's waiting room also incurred damage owing to the attack. Colonel Almaliki stated that military and security forces were working to identify the type of projectile used in the terror attack.