Indonesia reiterates climate finance when opening 144th Session of IPU
Printer-friendly version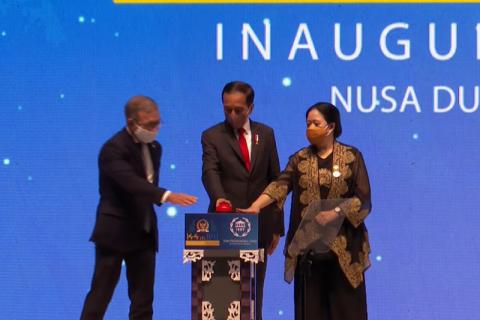 Jakarta, March 21 (ANTARA) - President Joko Widodo (Jokowi) reiterated the significance of climate finance while opening the 144th Assembly Session of the Inter-Parliamentary Union (IPU) and related sessions in Nusa Dua, Bali, Sunday.
In principle, energy transition from fossil energy to new and renewable energy is not as easy as imagined, especially for developing countries, the President noted in his opening address monitored virtually from Jakarta .
"What needs to be discussed and mobilized is climate finance. This must be resolved immediately," he remarked..
For the umpteenth time at global forums, President Jokowi highlighted the issue of climate finance pledged by developed nations to developing countries to deal with climate change.
During the United Nations Climate Change Conference (COP26) in Glasgow, Scotland, November 2021, the President urged developed nations to meet the pledge.
In 2009, wealthy nations pledged to mobilise $100 billion in climate finance annually by 2020 to help vulnerable nations deal with climate change.
In addition to climate finance, the President also highlighted investment in renewable energy and transfer of technology that must be immediately realized to adapt to climate change.
With regard to new and renewable energy, the President offered a series of green energy potentials in Indonesia, such as hydropower and geothermal energy which can potentially generate 29,000 megawatts of electrical power.
"There is a lot of wind. There is a lot of undersea current. Solar energy is very abundant. However, (to take advantage of the energy), we need huge investment, transfer of technology, climate funding that must be seriously supported by the international community," the President emphasized.
To that end, the President appealed to the IPU assembly session and related sessions held in Bali from March 20 to 24 to come up with real and concrete actions from the parliaments and governments of member countries.
Indonesia will require Rp3.460 trillion, or around Rp266 trillion per year, in funding till 2030 to reduce carbon emissions, Finance Minister Sri Mulyani Indrawati earlier estimated.
At a Science 20 (S20) webinar on 'High-Level Policy on Fair Energy Transition' on Thursday, the minister said that the energy transition issue or climate change agenda has become the highest priority for Indonesia.
To demonstrate its commitment to emissions reduction, Indonesia ratified the Paris Agreement, which contains the Nationally Determined Contribution (NDC) commitment, in 2016.
According to the NDC document, Indonesia is committed to reducing greenhouse gas emissions by 29 percent through its own efforts and 41 percent with the help of international support by 2030.
However, fiscal policies can only cover 34 percent of the total Rp3.460 trillion funding requirement, Indrawati said.