Shortlink :
https://www.oananews.org//node/663784
The shortlink copeid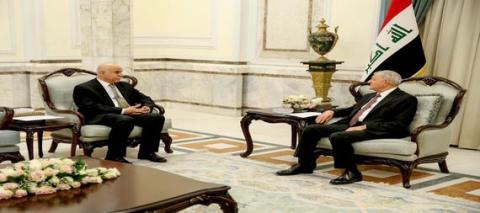 The President Of The Republic Affirms Iraq's Permanent Support For The Palestinian Cause
Baghdad / NINA /- The President of the Republic, Abdul Latif Jamal Rashid, affirmed Iraq's permanent support for the Palestinian cause.
The media office of the Presidency of the Republic said in a statement, "The President of the Republic received today, Tuesday, at Baghdad Palace, the Palestinian Ambassador to Iraq, Ahmed Aqel.
The statement added, "During the meeting, the latest developments in the security and political arena in the region were reviewed, as the President of the Republic affirmed the stability of the Iraqi position in support of the brothers in Palestine and support for their fateful cause, pointing to the importance of uniting the efforts of the Palestinian people."
Rashid explained, "We must strive to achieve the demands of the Palestinian people and put pressure on the international community to take a supportive position for Palestine."
The President indicated, "Iraq condemns the occupation's storming of the city of Jenin and its camp in the State of Palestine, expressing condolences to the families of the martyrs and wishing the injured a speedy recovery."
For his part, Ambassador Ahmed Aqel affirmed that Iraq's position was honorable regarding the Palestinian cause and its condemnation of the attacks against the Palestinian people, expressing his thanks to the President of the Republic for his interest and support for the rights of the Palestinians./ End