Shortlink :
https://www.oananews.org//node/667795
The shortlink copeid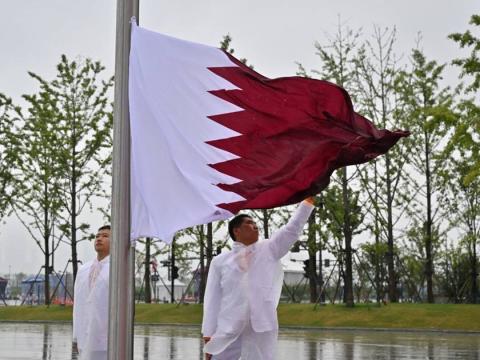 Qatari Flag Raised at the 19th Asian Games Village in China's Hangzhou
Doha, September 21 (QNA) - The Qatari flag was raised Thursday at the 19th Asian Games village in China's Hangzhou. The tournament is due to kick off Saturday.
HE Second Vice President of Qatar Olympic Committee (QOC), Dr. Thani bin Abdulrahman Al Kuwari, HE QOC's Jassim bin Rashid Al Buainain, and chef de mission Rashid Adiba were in attendance, along with several QOC officials and representatives and sports federations.
During the flag-raising ceremony, the State of Qatar's national anthem was played. Adiba exchanged shields with the organizing committee representative and festive shows and carnival activities were performed.
Following the ceremony, the QOC Secretary-General met several Qatari athletes at the sports village and urged them to leave no stone unturned to showcase an honorable image of Qatari sports in the major Asian forum.
Qatari athletes who are competing in 27 sports seek to secure a medal tally that reflects the great development in Qatari sports thanks to the great interest and support it receives from the wise leadership. (QNA)