Shortlink :
https://www.oananews.org//node/667851
The shortlink copeid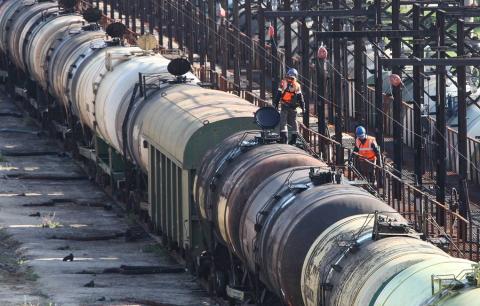 Russia introduces restrictions on exports of gasoline, diesel fuel
MOSCOW, September 21. /TASS/. Russia has introduced restrictions on the export of gasoline and diesel fuel from September 21, the press service of the government reported on Thursday.
According to the government decree to that effect, the restrictions are temporary and begin on September 21 "from the date of its official publication," but the document does not specify the expiration date of the restrictions.
"The Russian government rules to establish, from the date of entry into force of this resolution, a temporary ban on the export of commercial gasoline <…> and diesel fuel <…>, from the Russian Federation including purchases made via exchange trading," the document says.
About exceptions
The ban applies mainly to gasoline and diesel fuel, but the government has introduced a number of exceptions. In particular, restrictions do not apply to supplies from Russia to the EAEU as part of indicative balances or protocols under intergovernmental agreements, export of fuel under intergovernmental agreements or as part of humanitarian assistance by government decision, transit of fuel, supplies to Russia's military outside the country, as well as fuel to support the activities of Baikonur and Spitsbergen.
The restrictions do not apply to the transportation of fuel by individuals for personal use, gasoline and diesel in storage containers for use on the road, deliveries to South Ossetia and Abkhazia, as well as fuel already undergoing customs procedures.
Restrictions on the export of gasoline and diesel will help curb "gray" exports, saturate the domestic market, and may also lead to an additional reduction in prices, an official from the Energy Ministry told reporters on Thursday. The ministry also stressed that the restrictions are temporary.
Situation with fuel prices
In recent months, gasoline and diesel fuel have been trading at record levels, but began to decline this week. Last week, a source told TASS that the Russian government is considering two options for stabilizing fuel prices: a complete ban on the export of petroleum products for a certain period to saturate the market, as well as increasing the export duty to $250 per ton on petroleum products. First Deputy Energy Minister Pavel Sorokin said that a protective duty on fuel exports from Russia was being considered as a potential measure to stabilize the market, but how to compensate refineries was not yet resolved.
Earlier, Deputy Prime Minister Alexander Novak attributed the hike in wholesale fuel prices to an increase in prices for petroleum products on global markets, as well as to depreciation of the ruble against the dollar.
As of Thursday, stock prices for gasoline in Russia decreased by 4-5.7% and prices for diesel fuel dropped by more than 2%.
Photo by Alexander Ryumin/TASS