G20 cooperates on Financial Intermediary Fund to face future pandemics
Printer-friendly version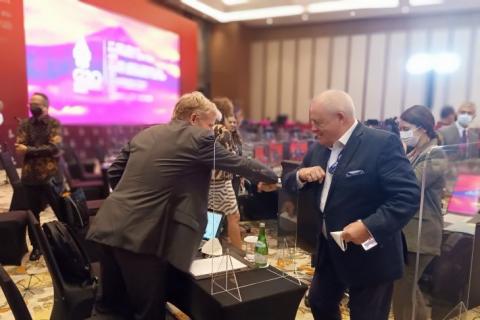 Yogyakarta, June 20 (ANTARA) - G20's Health forum worked together to establish the Financial Intermediary Fund (FIF) to help countries that would need it during potential pandemics in future, Health Minister Budi Gunadi Sadikin stated at the 1st Health Ministerial Meeting here on Monday.
The 1st Health Ministerial Meeting, held on June 20-21, 2022, discussed the establishment of sustainable fundraising, results of the G20 Health Working Group, and concrete actions on even distribution of vaccines.
"We are really enthusiastic to deliver our promise to the world's citizens that we are creating an emergency fund scheme to be used in future pandemics," Sadikin remarked.
Until now, G20 has pushed for commitment to raise a donation for emergency funds of US$1.2 billion from five member countries and one International charitable foundation to mobilize the role of FIF.
The United States (US) donated US$450 million; the European Union (EU), US$450 million; Germany, US$52.7 million; Indonesia, US$50 million; Singapore, US$10 million; and Wellcome Trust, US$12.3 million.
On the same occasion, World Health Organization (WHO) Director-General Tedros Adhanom Ghebreyesus estimated that the financial need for strengthening global health security reaches US$31 billion per year.
After the G20 countries' recommendation, the WHO collaborated with the World Bank in establishing the FIF.
"WHO and the World Bank estimate that US$31 billion is needed every year to strengthen global health security. Two-thirds of that (amount) could come from existing resources, but that leaves a gap of US$10 billion per year," he pointed out.
"Our recommendation is that the FIF can be supervised by a council that decides on fund allocation, supported by a technical advisory panel," he suggested.
Both the council and the technical advisory panel will be supported by the joint Secretariat of the World Bank and WHO, which is based in Washington.
"The bank will offer financial and administrative leadership at the secretariat, operating as a representative for FIF, hold and transfer assistance fund, and provide administration services," Ghebreyesus stated.
Meanwhile, the WHO will provide technical leadership, such as coordinating input from the technical panel, documentation, and the relevant report to the council.
World Bank and the WHO will take on the role of acting/managing entities along with other health partners, including the Global Fund, the Global Alliance for Vaccines and Immunisation (GAVI), and Coalition for Epidemic Preparedness Innovations (CEPI).