Indonesia targets being general champion in ASEAN Para Games 2022
Printer-friendly version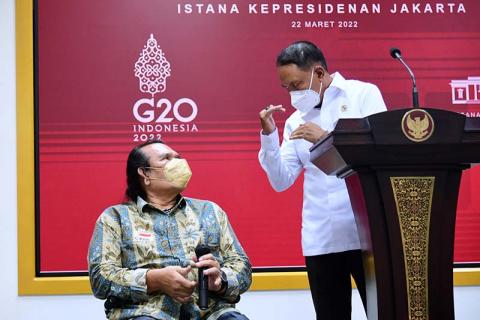 Jakarta, March 22 (ANTARA) - Indonesia targets to emerge as the general champion at the 2022 ASEAN Para Games to be held in Central Java on July 2022, Chairman of the National Paralympic Committee (NPC) Indonesia Senny Marbun stated.
"Our target is hopefully, that we can win as the general champion, as in (a past competition in) Malaysia, we were far above Malaysia and Thailand," Marbun noted during a press statement after attending the 2022 ASEAN Para Games preparation limited meeting with President Joko Widodo at the Presidential Palace here on Tuesday.
Marbun noted that Indonesia, as the host of the 2022 ASEAN Para Games, is responsible for being able to contribute to and doing its best in the sports event.
Meanwhile, Minister of Youth and Sports Zainudin Amali commented that the implementation of the 2022 ASEAN Para Games will be held in Central Java, including in Surakarta, Sukoharjo, and Karanganyar.
Central Java is designated as the location of the 2022 ASEAN Para Games, as it is a center for training paralympic athletes in addition to the facility of Dr. Soeharso Orthopedic Hospital, he explained.
"There is Dr. Soeharso Hospital, that we know the function of, and besides, there is also the Sebelas Maret University (UNS) that is very supportive for sports science," Amali explained.
The ASEAN Para Games 2022 will contest 14 sports branches, which are para-athletics, para-swimming, para-badminton, para-powerlifting, para table tennis, para chess, CP football, blind judo, boccia, sitting volleyball, goalball, wheelchair tennis, para archery, and wheelchair basketball.
Amali noted that all sports events will be held in Central Java. In 2011, Central Java also held the same event.
"The (preparation) time was short, but we have the experience of hosting the 2011 ASEAN Para Games," he remarked.
Indonesia replaces Vietnam that will only hold the SEA Games in May 2022.