Pertamina Grand Prix of Indonesia official name of Mandalika MotoGP
Printer-friendly version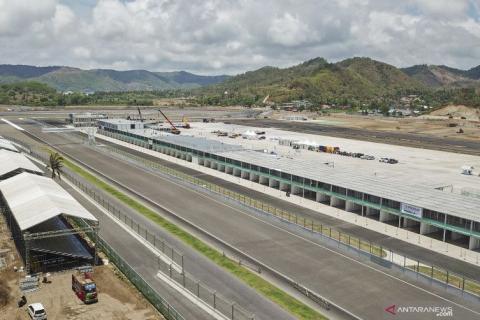 Jakarta, February 10 (ANTARA) - The official name of Indonesia's MotoGP event in Mandalika will be the Pertamina Grand Prix of Indonesia to drive national economic growth through the international motorcycle racing championship.
Pertamina President Director Nicke Widyawati expressed optimism that the motorcycle race would be able to bolster national economic recovery, boost the tourism potential, upgrade the motorcycle racing sports ecosystem, and become Indonesia's pride and spirit to rise from the COVID-19 pandemic.
"The Pertamina Grand Prix of Indonesia can strengthen Indonesia's branding as a resilient country amid the global pandemic crisis," Widyawati noted in a statement here on Wednesday evening.
To this end, Pertamina inked a cooperation agreement with Dorna Sports as the commercial rights holder of MotoGP.
Widyawati and Dorna Sports Managing Director Carlos Ezpeleta signed the agreement online that was witnessed by State-Owned Enterprises (SOEs) Minister Erick Thohir in Jakarta.
The international motorcycle race will begin with the pre-season on February 11-13, 2022, and the MotoGP season on March 18-20, 2022.
Moreover, Widyawati expected the synergy between Pertamina and MotoGP to have manifold effects, such as myriad opportunities for Pertamina, state-owned, and Micro, Small, and Medium Enterprises (MSME) products located in Mandalika to penetrate the wide global market.
Meanwhile, Ezpeleta expressed delight over Pertamina's involvement as the main supporter of MotoGP in Indonesia.
Ezpeleta believes the cooperation will strengthen the presence of Pertamina and Indonesia in the motorcycle racing sports in addition to being the major supporter of the Mandalika Circuit and Pertamina Mandalika's SAG Team competing in the Moto2™ World Championship.
"We are proud to announce the cooperation agreement for the Pertamina Grand Prix of Indonesia -- ensuring Pertamina, Indonesia, and Lombok Island are at the forefront -- to be the center of attention on the international stage," Ezpeleta stated.
Pertamina will present the MotoGP racing event to Jakartans through the Mandalika GP Hub in Kuningan, South Jakarta.
The event will be held from February 10 to March 30, 2022, with ticket sales, merchandise, games, and Lombok cultural exhibitions in the offing. Moreover, the MyPertamina application is a way to purchase Indonesia's MotoGP tickets.