UAE, Indonesia sign MoU to support halal industry, promote trade exchange
Printer-friendly version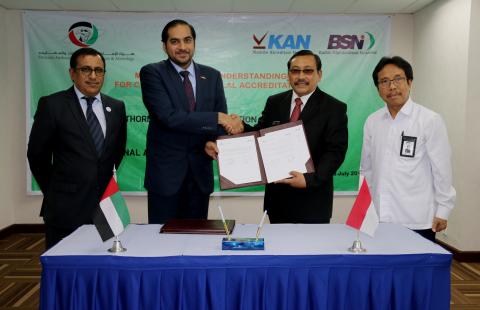 JAKARTA, 30th July, 2018 (WAM) -- The Emirates Authority for Standardisation and Metrology, ESMA, has signed a Memorandum of Understanding, MoU, with Indonesia's National Standardisation Agency, BSN, and National Accreditation Committee, KAN, to officially recognise halal certificates issued by KAN.
ESMA Director-General Abdulla Abdul Qader Al Maeeni told Salaam Gateway, which is a joint effort between Dubai Islamic Economy Development Centre and Thomson Reuters, that the cooperation will harmonise the standard for halal in the two countries and help increase bilateral trade between UAE and Indonesia.
He added that cooperation between the two countries would increase the volume of bilateral trade, especially as the official data indicate that the volume of trade exchange between the UAE and Indonesia is about US$3.7 billion and target the increase of US$5.5.
BSN chairman Bambang Prasetya told Salaam Gateway he is optimistic ESMA's recognition will boost Indonesia's exports to the UAE, especially food and beverages.
"We have about 13 F&B companies that already have a market in the UAE, ranging from instant noodles, biscuits, processed meat products, candy, jelly, cake, as well as flavours and sweeteners," said Prasetya.
Under the MoU, ESMA will recognise halal certificates issued by KAN and products certified by certification bodies accredited KAN, based on UAE halal requirements set by ESMA.
The parties agree that KAN will comply with relevant clauses of UAE.S 2055-3: Halal Accreditation Bodies.
"With the signing of the cooperation, KAN will accredit halal certification institutions for products exported to the UAE and supervise certification bodies to ensure the integrity of halal certificates issued," said Prasetya.
ESMA will provide training for KAN staff on UAE.S 2055-2: General Requirements for Halal Certification Bodies, including any applicable rules and procedures and ESMA online services requirements, said Maeeni.
The UAE authority may also conduct peer assessments to ensure the proper fulfillment of UAE halal requirements, added the director-general.