Lombok starts welcoming MotoGP participants
Printer-friendly version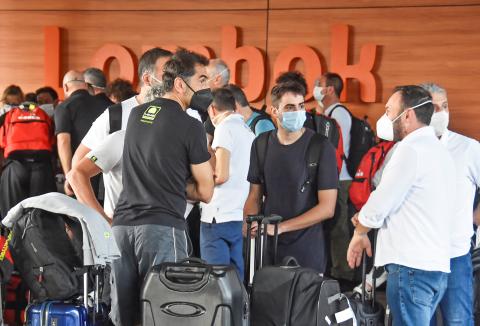 Jakarta, February 9 (ANTARA) - Racers, crew, and team officials participating in the pre-season test of the MotoGP event have started to arrive at Lombok International Airport, state-owned airport operator PT Angkasa Pura I (AP I) said.
"Participants for the 2022 MotoGP pre-season have begun to arrive at Lombok International Airport. The event will be held from March 11 to 13 (2022)," AP I President Director Faik Fahmi said in a statement released on Tuesday (Feb 8).
Two charter flights from Malaysia Airlines arrived on February 7, he informed. They were the first flights to arrive in Lombok for the MotoGP pre-season, he said.
One flight (MH8760) carried 248 passengers and the second (MH8756) carried 235 passengers, he added.
The same day, a Boeing 777F cargo plane belonging to Qatar Airways (QR8496) landed at 9.08 p.m. local time from Kuala Lumpur International Airport with 71,318 kilograms of cargo, Fahmi informed.
Then, on Tuesday afternoon, a Qatar Airways aircraft (QR8394) arrived with logistics supplies, he said. The Boeing 747-F aircraft, which came from Kuala Lumpur, landed at 12.11 p.m. local time and brought 77,993 kilograms of logistics supplies, he added.
AP I, which operates Lombok International Airport, has implemented a bubble scheme for handling the arrival of MotoGP participants to anticipate the spread of COVID-19, Fahmi said.
The bubble scheme has been regulated by Circular Number 5 of 2022 concerning the Bubble System Health Protocol for the 2022 MotoGP Event in Mandalika Circuit amid the COVID-19 Pandemic, which was released by the COVID-19 Handling Task Force on February 3, 2022, he disclosed.
Under the bubble scheme, MotoGP participants will be divided into different groups, and people at risk of COVID-19 exposure will be separated, he said. Interactions between groups or bubbles will be limited to minimize the risk of COVID-19 transmission, he added.
"Arriving passengers will go through a series of strict health checks by the Port Health Office (KKP) officers," Fahmi said.
To handle the arrival of MotoGP participants, AP I has prepared 12 health document check lanes, six passport check lanes, two conveyor belts, four customs inspection lanes, and special modes of transportation for taking the MotoGP participants from the airport to the circuit area, he revealed.
"We are focused on providing excellent services to MotoGP participants and spectators at the airport, while still prioritizing the implementation of strict health protocols," he added.