Shortlink :
https://www.oananews.org//node/667013
The shortlink copeid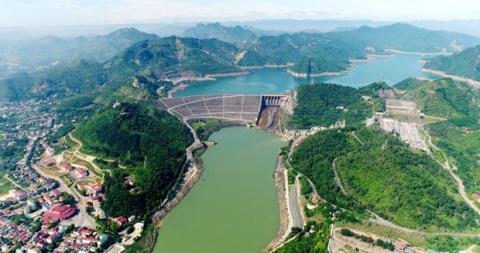 Vietnam aims to ensure national water resource security
Hanoi, September 11 (VNA) - Climate change has and is deeply affecting Vietnam's water resources, changing the water cycle in nature and causing extreme phenomena such as flooding, drought, and saline intrusion, thus prompting the urgent need for strengthening management of water resources.
The Ministry of Natural Resources and Environment (MoNRE) has recently reviewed the 10-year implementation of Resolution 24-NQ/TW on natural resources management, climate change adaptation, and environmental protection issued by the 11th Party Central Committee.

According to the ministry, during the last decade, more than 24,000 water supply and wastewater discharge facilities have been managed by agencies at all levels through the licensing mechanism.

However, violations in the field of water resources remain widespread, showing the weak enforcement of laws related to water resources management.

Statistics from the ministry show that central agencies conducted 31 inspections relevant to water resources management for 206 water supply and wastewater discharge facilities in 40 provinces and cities nationwide in the period. Meanwhile, nearly 3,000 inspections of this kind were conducted at the local level, targeting 19,000 facilities.

Nguyen Minh Khuyen, Deputy Director of the Department of Water Resources Management under the MoNRE, attributed the violations to unclear policies related to ensuring water resource security.

Additionally, other reasons include inconsistent legal regulations, the lack of clarity regarding water resource management, slow progress in planning, the inadequacy of the information systems for water resource management, limited public awareness, and the weak enforcement of water resource laws, he went on.
The official said the department and the MoNRE will speed up the compilation of a revised law on water resources to meet requirements in the new situation and enhance national water security.

He also called for more investment in facilities to improve efficiency in water use as well as in waste water collection and treatment, and stronger international cooperation in the field.

According to a water resources planning scheme for the 2021-2030 period with a vision to 2050, Vietnam targets increasing the rate of daily clean water use to 95% - 100% for the urban population and 65% for rural residents. As many as 90% of water exploitation activities will be put under control, while the rate of water loss in supply activities will be reduced to 10%.

By 2050, Vietnam is expected to raise its national water security index to be among the countries that effectively ensure water security in the world. It will work towards being proactive in water resources in all situations, forecasting and regulating water, preventing floods, droughts, saltwater intrusion, pollution, and responding to climate change./.