Vietnam: Lao Cai province welcomes first Chinese tourists after three years
Printer-friendly version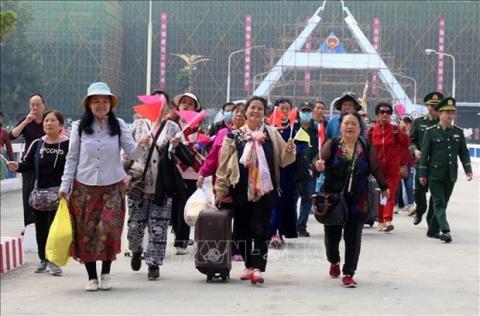 Lao Cai, March 16 (VNA) – Eighty Chinese tourists entered Vietnam via the Lao Cai International Border Gate on March 15 afternoon, marking the return of Chinese travellers to the northern mountainous province of Lao Cai after a three-year hiatus caused by the COVID-19 pandemic.
The visitors came to Vietnam after China included Vietnam on the list of countries to which group tours are resumed on a trial basis from March 15.
Coming mainly from Yunnan and Anhui provinces of China, they will have a four-day-and-three-night tour of Ha Long city in Quang Ninh province and Hanoi capital.
A tourist from Anhui province said she is happy to visit Vietnam, and that she waited for the trip for a long time but it was not until COVID-19 was brought under control in China that she could travel to Vietnam.
Truong Thi Hai Yen, a representative of the Tung Lam Travel and Trading Co. Ltd which serves the Chinese tourist group, said the firm has made thorough preparations to meet visitors' demand and provide the best services.
For his part, Vuong Trinh Quoc, head of the economic zone management board of Lao Cai province, noted that to welcome Chinese tourists, relevant authorities have been ordered to create the best possible conditions for handling entry procedures. The management board has also worked to repair and upgrade infrastructure to facilitate entry and exit activities.
The arrival of the first group of Chinese visitors is expected to help reactivate the Chinese tourist market after a long pandemic-triggered stagnation./.