Vietnamese ministry strengthens cooperation with RoK National Police Agency
Printer-friendly version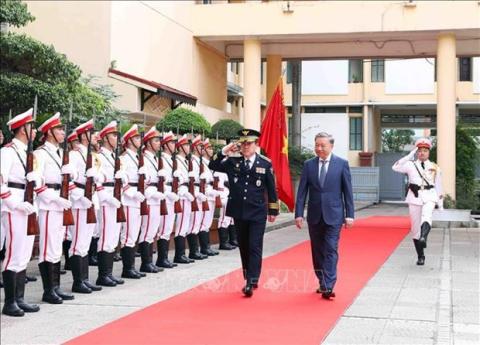 Hanoi, June 6 (VNA) - Minister of Public Security Gen. To Lam hosted a reception in Hanoi on June 5 for a delegation of the National Police Agency (NPA) of the Republic of Korea (RoK) led by Commissioner General Yoon Hee-keun.

Lam stressed that the comprehensive strategic partnership between Vietnam and the RoK has made progress, contributing to promoting bilateral relations, meeting aspirations of their people, for peace and prosperity of both nations.

He noted with pleasure outcomes of the second phase of the project on improving criminal science capacity funded by the Korean agency, saying it has helped raise criminal science capacity for the Vietnamese ministry's officers.

To strengthen relations between the two countries as well as the Ministry of Public Security (MPS) and the NPA, the minister suggested the two sides continue consolidating their political trust, maintain mutual support at regional and international forums, enhance cooperation across spheres, especially economy and trade, and foster cultural and people-to-people exchanges.

The two sides should increase all-level delegation exchanges, step up cooperation in cross-border crime prevention and control, and forge collaboration between their units, he continued.

Lam also called for further coordination from the NPA in materialising the above-said project and the organisation of training courses in the RoK for Vietnamese police officers.

He emphasised the positive, stable development of cooperation in law enforcement and the fight against crime, which has brought about practical benefits to both sides.

For his part, Yoon pledged to work on promoting collaboration between the two agencies, contributing to ensuring national security and social order and safety in each country./.