Yakutia's tourism authority forecasts 250,000 visitors to region
Printer-friendly version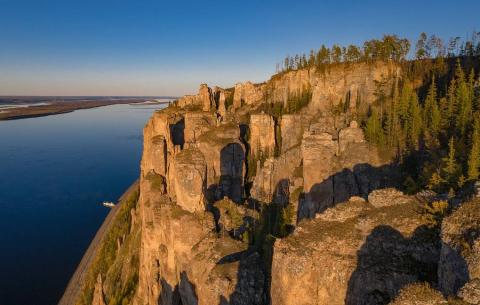 MOSCOW, March 20. /TASS/. The number of tourists visiting Yakutia in the current year may be 250,000, Director General of the region's Agency for Tourism Development Dmitry Gromov told TASS, adding in 2022 the number of visitors reached the pre-pandemic level of 200,000.
"This year <…> we expect to welcome 250,000 [guests]," he said on sidelines of an international exhibition of tourism and hospitality.
The official pointed to China's interest to visiting Yakutia. "It is no longer a great surprise [for Chinese tourists] to see the Pole of Cold, as many operators have brought tourists there, and the number of tourists has been rather high," he said. "We have been working on new locations, like, for example, Mys Paksa (Cape Paksa). <…> We will offer individual tours there. This is not a route for groups, it is extreme tourism."
Quite soon tourists will be able to get to the Lena Pillars National Park by plane. Planes will land on the Lena River ice. Additionally, specialists will expand trips to the Pole of Cold in the Oymyakon village - the country's coldest location. "We will expand the route to Oymyakon," he continued. "A regular route has been 1,100 km - it is a complicated route. Now, it will be more interesting due to new camps on the route."
Earlier, press service of the region's Ministry of Entrepreneurship, Trade and Tourism said in 2022 the number of tourists to Yakutia reached the pre-pandemic level of more than 200,000. Traditionally, the biggest attractions in 2022 were the Lena Pillars National Park (which welcomed more than 33,000 guests), the Buluus glacier (about 10,000), the Kharama Khaya Sacred Mountain (about 20,000), and rafting along the Amga and the Buotama Rivers (10,000).
About tourism
Tourism is a priority direction in the development of Yakutia's non-resource economy. The region sells about 250 tourist products, and this number is growing steadily. The most popular destinations are the Lena Pillars National Park, the Pole of Cold in Oymyakon, cruises along the Lena River, including Arctic cruises, hiking tours across mountain passes, fishing, rafting, and various events. Yakutia's daily accommodation capacity is more than 6,000 guests.
The Lena Pillars National Park was established in 1994, and in 2019 it received the status of a specially protected federal natural area. The park occupies 1.217 million hectares. In the park grow plants that are not found elsewhere in the world. There also live rare animals and birds, many of which are listed in the Red Data Book. The park is located in Yakutia's Khangalas District.
Photo by Yuri Smityuk/TASS