Shortlink :
https://www.oananews.org//node/178253
The shortlink copeid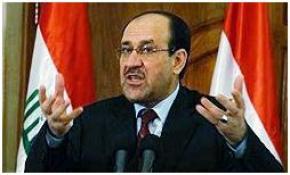 PM: Iraq Not to Bow to Pressures for Extended US Mission
TEHRAN ,April 27(FNA)- Iraqi Prime Minister Nuri al-Maliki announced that Iraq no more needs the US forces to protect its internal security, and underlined that his government will not bow to the pressures exerted on Baghdad to accept an extended US military mission in the country.
"The Iraqi government and parliament will not heed foreign pressures when making their decision on this issue and they will do what is to the interests of the Iraqi nation," Maliki said during a press conference in Baghdad on Tuesday.

Asked if the US forces will leave Iraq based on the security pact between the two countries, he said, "The issue is still being studied and the government and parliament will decide about it in the near future after studying all the relevant aspects."

Maliki also dismissed media reports on the endorsement of a new security pact with Washington.

Maliki had also on Thursday underlined that Iraqi troops could handle security duties when US troops pull out, more than eight years after the initial invasion to throw out Saddam Hussein's regime.

The Iraqi people and religious figures have recently condemned the US attempts to prolong its presence in the country.

Senior Iraqi Shiite cleric Grand Ayatollah Kazzem al-Hosseini al-Haeri on Sunday condemned Washington's attempts to extend its military deployment in the country, and issued a Fatwa (religious decree) against the presence of the US forces in his country after the end of 2011.

"Americans occupied our country and started corruption in here and ruined whatever was left by Saddam, therefore after 7 years and based on the security agreement (between Iraq and the US), all the US forces should leave Iraq at the end of 2011," Ayatollah Haeri said in his Fatwa.

The fatwa cautioned that although the number of the US forces in Iraq has seemingly decreased to 50,000 at present, Americans seem to be seeking to extend their mission in the country.

Iraqis have held a series of protests over the last two weeks in opposition to the suggestions that US troops might stay beyond their scheduled departure at the end of 2011, as well as demanding the release of prisoners jailed for long periods without being charged.

At least one protester was killed and 44 injured when security forces fired live ammunition to disperse hundreds of protesters who have gathered on Friday to rally against the US presence in Iraq, according to medical sources.