Shortlink :
https://www.oananews.org//node/179025
The shortlink copeid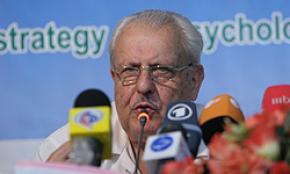 Envoy Lauds Iran's Support for Palestinian Reconciliation Agreement
TEHRAN,APRIL 30 (FNA)- Palestinian Ambassador to Tehran Salah al-Zawawi welcomed the reconciliation agreement signed between the main two Palestinian resistance movements, Fatah and Hamas, and praised Iran's efforts and assistance to the formation of a national unity government in Palestine.

"The agreement between Fatah and Hamas movements is a positive step towards the establishment of a new Palestinian government," Zawawi told FNA on Saturday.

"During my mission as Palestine's ambassador to Iran, I have witnessed the Iranian nation and government's support for the victory of Palestine and establishment of a new (national unity) government," he added, brushing aside the allegations that Iran has ordered the Hamas movement to evade reconciliation with Fatah.

He viewed unity among the Palestinian groups as important for the materialization of the Palestinian goals, and underlined that unity is the only way to end occupation of the Palestinian territories and establish a Palestinian state.

Iranian Foreign Minister Ali Akbar Salehi had also on Wednesday welcomed the reconciliation agreement, calling it a positive move towards materializing Palestinian people's goals and rights.

Palestinian sources confirmed that Hamas and Fatah have signed in Cairo on Wednesday a deal to end the division and achieve national unity.

Earlier on Wednesday delegations headed by Musa Abu Marzoka, member of Hamas Politburo member, and Azzam al-Ahmad, member of Fatah central committee started talks to reach the long awaited unity deal mediated by the Egyptian Foreign Minister, Nabeel al-Arabi.

According to sources in Cairo Fatah and Hamas signed the initial deal, while other Palestinian groups will arrive in Cairo within a week to sign the deal as well.

The Islamic movement Hamas is at loggerheads with Fatah, headed by Palestinian President Mahmoud Abbas, since Hamas won the parliamentary elections in January of 2006. Hamas took control of the Gaza Strip ending months of bloody conflict with Fatah allied security forces. Egypt and other Arab countries attempts of reaching a reconciliation deal between the two largest Palestinian factions have failed so far.

According to internal sources, the agreement will include the formation of a caretaker government until elections take place in both the West Bank and Gaza.