Iranian VP Stresses Iran's Spiritual Influence on Region
Printer-friendly version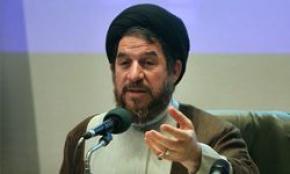 TEHRAN, May 3 (FNA)- The fact that people of the region are pursuing the same causes pursued by the Islamic Republic reveals that the Islamic Republic's soft power has overpowered enemies' military capability in the region, a top aide to the Iranian president stated.
"Although warplanes, missiles, bombers and warships determine the fate of the battlefield, the Islamic Republic of Iran has presented a type of spiritual might which has overpowered the enemies' military power," Iranian Vice-President for Parliamentary Affairs Seyed Mohammad Reza Mir-Tajeddini said on Tuesday.
He stressed that this spiritual might of the Islamic Republic of Iran stands above all military and war capabilities and powers.
The official further pointed to Islamic awakening, resistance and sacrifice, unity and solidarity, religious leadership, quest for honor and independence, campaign against tyrants and arrogant powers and quest for justice and Islam as among the main features and constituents of Iran's might and power, and said people in the region are in a quest for the same features as well.
On Monday, Iranian Foreign Minister Ali Akbar Salehi stressed that current uprisings in the region are moving in the same direction and pursuing the same goals and causes that Iran's 1979 Islamic Revolution did.
"Now that the people in the region have started rising, the future governments in the region will have popular roots and the arrogant powers' hegemony over the regional states will be unlikely in future," Salehi told FNA on Monday.
"This is a move exactly in the direction of the causes of the Islamic Revolution and opposite to the West's interests," Salehi noted,
In recent months, a wave of revolutions and anti-government uprisings has been sweeping the Arab world.
In January, a revolution in Tunisia ended the 23-year ruling of former President Zine El Abidine Ben Ali.
In February, another Arab revolution led to the ouster of former Egyptian President Hosni Mubarak after three decades of his authoritarian rule.
Since then, other revolutions have swept Libya, Yemen and Bahrain, while other anti-government unrests are erupting in Saudi Arabia, Jordan, Oman, Kuwait and Algeria.