FM Terms Ties with Neighboring States "Iran's Top Priority"
Printer-friendly version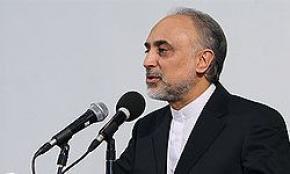 TEHRAN, May 4 (FNA)- Iranian Foreign Minister Ali Akbar Salehi underlined that expansion of Iran's ties and cooperation with the neighboring states sets a top priority for Tehran.
"One of our political priorities is paying special attention to our neighbors and establishing profound relations with them," Salehi said on Monday night, addressing a number of Iranian expatriates residing in Doha, Qatar.
He also referred to the good ties between Iran and Qatar, and said, "Qatar is one of our very good neighbors and despite its small population and limited territory, it is playing an increasing role which is welcomed by us."
The Iranian top diplomat also warned bout the enemies' plots to sow discord between Tehran and Doha, and said, "We should not allow our enemies to find such an opportunity."
Salehi, heading a high-ranking Iranian delegation, arrived in Doha on Monday morning for an official daylong visit to the Muslim Persian Gulf state.
Salehi held separate meetings with Qatari Crown Prince Sheikh Tamim bin Hamad Al-Thani, his Qatari counterpart Sheikh Hamad bin Jassim Al Thani and Qatari Emir Sheikh Hamad bin Khalifa Al-Thani in his trip to Doha.
At the end of his trip to Doha, Salehi held a meeting with the Iranian expatriates residing in Qatar. He returned to Tehran on Tuesday morning.
Iran and Qatar have recently augmented efforts to further expand ties and cooperation in all the different political, economic, defense and security fields.
The two Persian Gulf littoral states recently signed several protocols to increase mutual cooperation, specially in different areas of security.