Islamic Jihad Envoy: Israel Losing Allies in Region
Printer-friendly version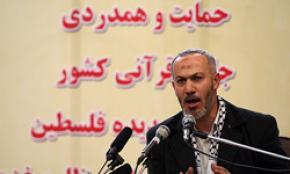 TEHRAN, May 4 (FNA)- Representative of the Palestinian Islamic Jihad Movement in Tehran Nasser Abu Sharif underlined that popular uprisings in the region have caused growing concerns for the Zionist regime since it is losing its regional allies after these uprisings.
Addressing a conference on popular uprisings in the Middle-East and North of Africa here in Tehran on Wednesday, Abu Sharif stressed the impacts of the current developments on the future of Palestine and the region.
"No doubt the Zionist regime (of Israel) is deeply fearful of the recent changes in the region since it sees that it is losing its cards and allies in the region gradually," Abu Sharif stated.
"And this is a disaster for Israel," he noted.
He mentioned that nations of the region have witnessed numerous conspiracies and plots hatched by the hegemonic powers in the region during the last decades and as a result they revolted to end the powers' hegemony over their countries.
He added that the current Islamic awakening in the Islamic states is in line with their quest for reviving their national and Islamic identity.
In recent months, a wave of revolutions and anti-government uprisings has swept the Arab world.
In January, a revolution in Tunisia ended the 23-year ruling of former President Zine El Abidine Ben Ali.
In February, another Arab revolution led to the ouster of former Egyptian President Hosni Mubarak after three decades of his authoritarian rule.
Other revolutions, then, erupted in Libya, Yemen and Bahrain, while other anti-government unrests have swept Saudi Arabia, Jordan, Oman, Kuwait and Algeria.