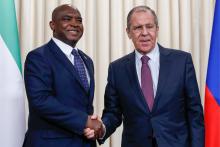 MOSCOW, January 29. /TASS/.
DAKAR, Senegal
Kuwait has stopped issuing visas to domestic helpers from Sierra Leone amid allegations of abuse by their employers, according to a news release Tuesday.
TEHRAN,Oct.3(MNA) – Lotfollah Bakhtiari has been appointed as Iran's new ambassador to Sierra Leone, the press office of the Iranian Foreign Ministry reported on Tuesday.
Tehran, Oct 3, IRNA - - Foreign Minister Ali Akbar Salehi on Tuesday appointed Lotfollah Bakhtiari as Iranian Ambassador to Sierra Leone.