MOSCOW (Sputnik) - Russian, Syrian, Turkish and Iranian deputy foreign ministers will hold talks in Moscow on Tuesday.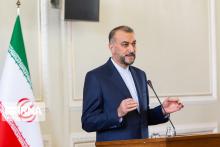 Tehran, IRNA – Iran's Foreign Minister Hossein Amirabdollahian on Monday announced his country's readiness to hold talks with Ukraine over claims that the Islamic Republic has sold drones to Russia to use in the Ukraine war.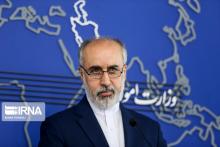 Tehran, IRNA – The spokesman for the Iranian Foreign Ministry said here on Monday that Tehran's demands in the talks on the removal of the sanctions are reasonable, clear, and legal.
The US behavior is hypocritical, Nasser Kanaani told reporters at his weekly press briefing in Tehran.
Tehran, IRNA – The spokesman for Iran's Ministry of Foreign Affairs told reporters on Monday that some messages were exchanged between Tehran and Washington on the sidelines of the 77th United Nations General Assembly held in September in New York.
Tehran, IRNA – Iranian Foreign Minister Hossein Amirabdollahian said in a telephone conversation with his French counterpart, Catherine Colonna, that Tehran is serious and honest to reach the final point of agreement and has always presented positive ideas in the talks, but the American side had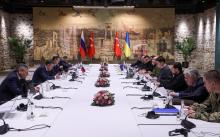 MOSCOW, March 29. /TASS/. The Russian-Ukrainian talks that took place in Istanbul on Tuesday were constructive, the head of the Russian delegation, Presidential Aide Vladimir Medinsky, told reporters.
BEIJING, February 25. /TASS/. Russian President Vladimir Putin said in a conversation with Chinese President Xi Jinping that Moscow is ready to hold high-level talks with Kiev, a statement published Friday on the website of the Chinese Foreign Ministry reads.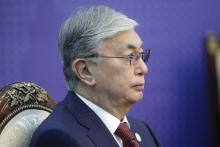 MOSCOW, February 10. /TASS/. President of Kazakhstan Kassym-Jomart Tokayev called the talks with his Russian counterpart Vladimir Putin interesting and intense.
MOSCOW, January 28. /TASS/. If the United States and its allies continue to pursue regime change in North Korea, there is going to be no dialogue on the Korean Peninsula's nuclear issue, Russian Deputy Foreign Minister Igor Morgulov said in an interview with TASS.
GENEVA, January 21. /TASS/. Russian Foreign Minister Sergey Lavrov and US Secretary of State Antony Blinken concluded their meeting in Geneva that lasted an hour and a half, a TASS correspondent reported from the scene.